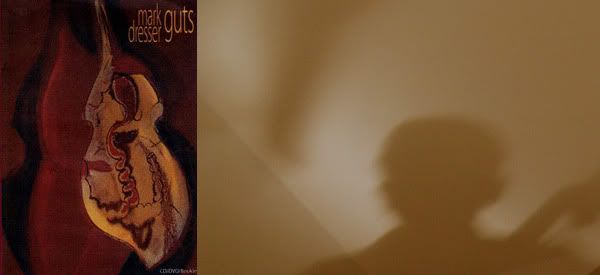 ---
CD TRACKLIST [wpaudio url="http://mark-dresser.com/audio/Visceras.mp3″ dl="0″ text="1. Visceras"] 2. Spleendeed
3. Innard Pulse
4. Dermus
5. Duohandum
[wpaudio url="http://mark-dresser.com/audio/KTude.mp3″ dl="0″ text="6. K-Tude"] 7. S'Offal
8. Kishkus
9. imAge/contrabass
10. imagE/contrabass
11. Ekoneni

GUTS DVD
Bass Explorations, Investigations, and Explanations Explorations-A Conversation with composer Roger Reynolds Investigations: Approaches to Making Music
Early Development
Improvisation and Composition
Musical DNA
The Limits of Notation
Context and Control
Common Affinities
Commitment and Development
Making it Work
Everything is There
Electro-Acoustic Performance
Intuition and Growth
Be Yourself Completely


Explanations: A Studio Demonstration
Terminology
Preliminary Bow Studies
Gravity Bow Drops
Harmonics
Higher Harmonic Partials
Artificial Harmonics
Compound Artificial Harmonics
Pizzicato Artificial Harmonics
Falsetto Flautando
Subharmonics
Multiphonics
Arco Multiphonics
Pizz Multiphonics
Two Handed Pizzicato Technique
Double Glissando
Bitones
Amplification
Conclusion


Thirteen embedded pdf files of reference charts, etudes, concert pieces and a transcription of the Explanations chapters

ABOUT

GUTS is a CD/DVD and Art booklet triptych by virtuoso bassist Mark Dresser on the Kadima Collective label. The CD includes Dresser's improvisations and compositions as well as the interpretations of two pieces by Pulitzer Prize winning composer Roger Reynolds. The two and half hour DVD contains a demonstration of Dresser's extended techniques with attached notated charts, studies and concert pieces. As well there is a conversation between Dresser and Reynolds on their collaboration. In addition Dresser discusses improvisation, composition and developing a personal sound.