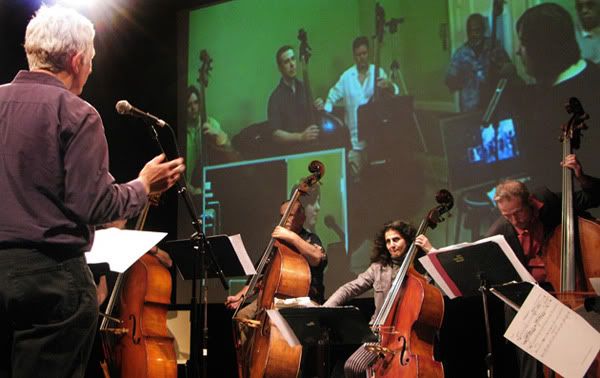 ---
THE DVD
Duration: 1 hr 28 min
Film by Christine Baudillon and Francois Lagarde documenting the days and concerts in Israel


THE CD: SLM
Duration: 49 min
Composed by Mark Dresser and Sarah Weaver for telematic bass ensemble
[wpaudio url="http://mark-dresser.com/audio/SLMexcerpt.mp3″ dl="0″ text="Stream: Excerpt from SLM"]

THE BOOKLET
Israel photography by Christine Baudillon and Francois Lagarde, New York Photography by Scott Friedlander

http://www.kadimacollective.com/
http://www.deeptonesforpeace.com/

ABOUT

Deep Tones for Peace, DVD/CD/booklet on the Kadima Collective label documents the historic concert in April 2009 by 13 internationally recognized bass players performing together live on the internet between Jerusalem and New York City.

May deep tones resonate in all human beings
May all rhythm arise out of concern for the universe
May we realize all life is innocent all life is precious
May all war stop immediately
May deep tones for peace echo and resonate across the universe.
-William Parker

The musicians include Barre Phillips, Bert Turetzky, Mark Dresser, Thierry Barbe, Chi-chi Nwanoku, Irina-Kalina Goudeva, JC Jones, Michael Klinghoffer in Jerusalem and Henry Grimes, Rufus Reid, Trevor Dunn, Lindsay Horner, David Phillips, Sarah Weaver in NY with an invocation by William Parker.

The CD features "SLM- for Telematic Contrabass Ensemble" by Mark Dresser and composer/conductor Sarah Weaver. The title for SLM comes from the three-letter root for peace, common to numerous languages, including the Hebrew "Shalom," Arabic "Salaam" and Amharic "Selam."

The DVD documentary by Christine Baudillon and Francois Lagarde features interviews, glimpses of rehearsals, and a plethora of additional footage and excerpts from the six hour international concert taken in Israel.